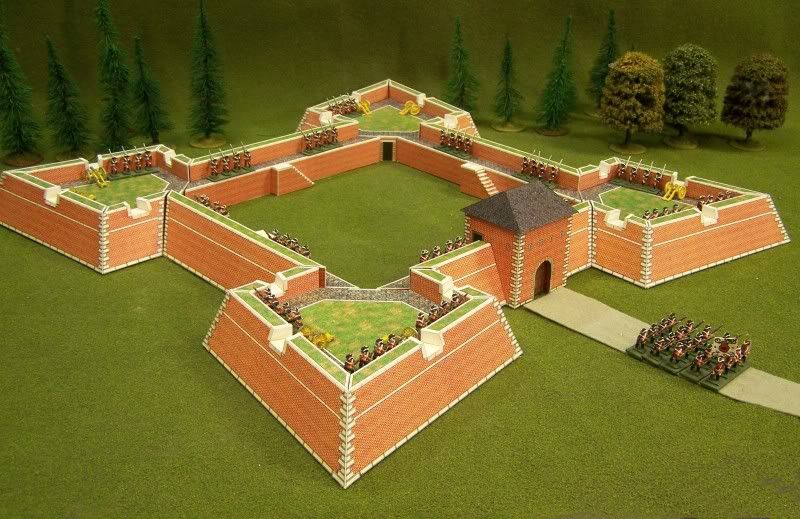 A splendid looking 25/28mm Vauban Fortress from Paper Terrain (photo from their web site). Click on the picture to see the full picture (part of it is clipped off on this page, but a click enlarges it so that the rest of the photo can be viewed)
The other day on The Miniatures Page ("TMP"), a company called Paper Terrain announced that it was now offering paper Vauban Fortress models in 6mm, 10/12mm, 15mm and 25/28mm scales. Some of you may already be familiar with this company as they offer a wide range of paper/cardstock terrain items and buildings. But I have to say that I am truly stunned at how good looking this model is, priced at $70.00 for the 25/28mm version. In addition to its good looks and attractive price, the model has a relatively small "footprint" at 30" square, so it will not engulf the 6ft by 24ft table that we play on at Brown Deer, WI at Chez Protz.

Proprietor Scott Washburn presented the following press release with information about this exciting new product:

PaperTerrain is pleased to announce the release of its Vauban Fortress Kit. The Vauban-style fortresses were built all over Europe and the world and saw action in many wars, even as late as World War II. The kit allows you to build a 4-sided fort. Included are 4 bastions, connecting walls and a gatehouse. The 10/12mm kit is approximately 14" x 14", the 15mm kit is 19" x 19", the 20mm kit is 24" x 24" and the 25/28mm kit is 30" x 30". A 6mm kit will be available VERY soon (really!). Check it out at paperterrain.com
The link to the company's web site is
www.paperterrain.com
I am really excited about this product and I can foresee a lot of applications to the informal wargame campaign between Hesse Seewald and Gallia. We recently saw the Hesse Seewald army win a battle near Frankfurt and then move into seige position to take the town. Alas, we had no fort to battle over so we decided that the Erbprinz would probably withdraw his army back towards his base for the winter.

I plan to buy one of these beauties soon and hopefully assemble it and embellish it a little bit with a fixed base and a glacis or revelin or two. For rules, I would recommend the ones that Michael Lowry used in his game at the Seven Years War Association. These might be available through The London War Room store.